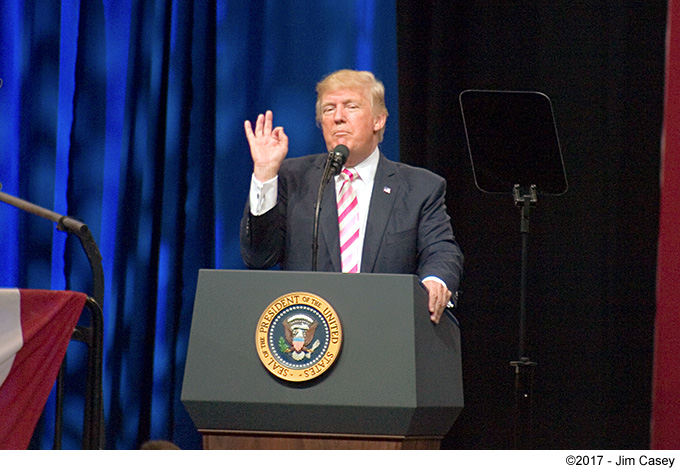 UPDATE: ONE YEAR LATER
My lack of acumen as a reporter is revealed but, I simply don't have the opportunity to cover many real time events & saw this rally primarily as a photographic event.
Running a one man show has drawbacks & means I don't usually bring laptop & camera to the same event. Which is to say that what's absent in my article below is the fact that this is the now infamous rally, seen on national tv over & over again, where Trump declares of Colin Kaepernick "…fire that son of a bitch!"
After the two hour rally I didn't foresee the media firestorm & a full year of on-going antagonisms involving the NFL & Kaepernick, who still isn't playing football. I did take notice of the remark at the time, but frankly was a bit rattled myself as I felt he was looking directly at me when he said it.
I have, however, commented extensively on the matter in more than one ToccTv column. Keyword: Kaepernick
REVISED – 2017.09.23
President Donald J. Trump ascended upon Huntsville this evening stumping for republican Senate hopeful Luther Strange. Strange faces Roy Moore in the Republican runoff next Tuesday.
The Strange Trump rally drew a full house at the Von Braun Civic Center with President Trump keeping the crowd enthralled for an hour and a half. While Mr. Trump's appearance was to campaign for Luther Strange, Strange spent little time at the podium while Trump dominated the evening with his own mostly standard campaign rhetoric. He did indicate his intervention in a primary was out-of-the-ordinary and that while he is endorsing Luther Strange, if Strange loses his bid for the Senate seat he now holds by appointment after it's vacation by Jeff Sessions, that he would indeed be back campaigning for Strange's opponent Roy Moore.
Protestors against Trump gathered in Big Spring Park near the gazebo as the rally commenced in the civic center arena. They enthusiastically engaged in chants and presented posters, one reading "GO HOME DOTARD". Other media outlets indicated the protests had a few rowdy moments but never became violent and apparently no arrests were made.
________________________
© 2017 – Jim Casey
TOCC.tv Red HOT Uploads