2015-06-05 14:57:47
William Eric Freeman
Poster Boy For RICO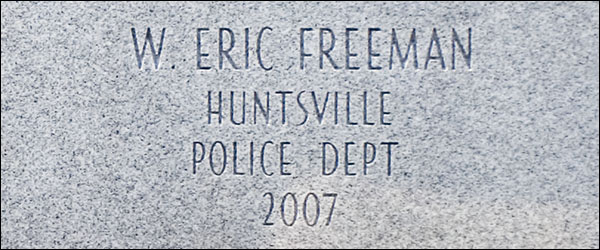 William H. Freeman's name is forever emblazoned on the Fallen Officers Memorial located on South Side Square in downtown Huntsville.
The true story hasn't been told, until now. The second part in this series is now posted.
---
---
2015-06-05 14:28:39
I do remember thinking that the "consequence" for revealing "classified" information seemed a little distant and out of context. There certainly wasn't anything I could do, I didn't know the person, didn't know if the dossier was just a joke done in poor taste, or a metaphor for something I didn't yet understand, or whether it could be taken seriously at all. And, since I was the only one in the classroom who saw the material, there was no temptation to discuss the contents with the teacher who showed she wanted none of it, or the other students, which probably would have deemed my assertions unbelievable anyway, thereby making me a fool in the eyes of my fourth grade peers.
---
2015-06-12 14:28:45
There is mounting evidence in Huntsville of a deliberate system of extermination whereby a number of "at risk" individuals have met with inextricable and untimely deaths in recent years, as well as a long emerging pattern of "assisted suicide" by police that effectively results in the extermination of the so-called "undesirable" individual – usually branded as mentally ill. While it appears these murders by police are incidental, they are more likely achieved by the same system of domestic terrorism that ultimately staged the death of Eric Freeman. The whereabouts of Glenn Watson is unknown at this time, however, he may have fled to Phucket, Thailand where it is believed he is invested in real-estate holdings.
---
2015-07-07 14:46:44
I'm surprised that Shipp's attorney's didn't pursue a temporary insanity defense. Although we know that the standard of insanity defense in the State of Alabama is so high, that it is virtually never successful. In my opinion, while Kenneth Shipp might have acted irresponsibly in some ways, and it does seem obvious that he picked up his gun and pulled the trigger, the aggravating circumstances add up to manslaughter and twenty years - not life in prison.