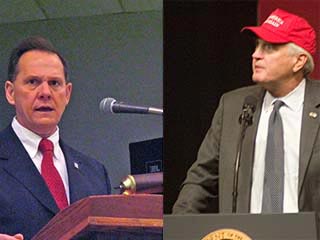 The Alabama Republican runoff for U.S. Senate is Tuesday. It's sometimes difficult to know what to do when choosing the lesser of evils.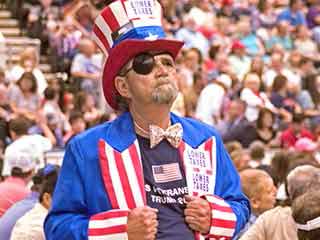 Read the commentary & see the images from the infamous Strange Trump rally where Trump declares of NFL quarterback Colin Kaepernick, "…fire that son of a bitch!" BONUS: Flag Burning Video !!!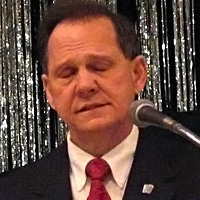 Chief Justice of the Alabama Supreme Court, Roy Moore, has again been suspended from office by the Alabama Court of the Judiciary on ethics charges over his defiance of the US Supreme Court in regard to same sex marriage in Alabama. He was previously removed from office over his refusal to remove the ten commandments […]
These days, we have the resources and the ability to show grace and compassion, and acceptance, even if we don't agree or understand. That's why it's called "civilization." We don't always do a very good job of it because there is a lot of malfeasance and corruption and witch doctors who make money on exploiting misery, or preventing happiness. The bottom line is that Luther Strange doesn't need to be adding fuel to the fire to cultism, extremism, and corruption.
Dear "Christian" Alabamian, please take off your shoes and socks and stick your toes out in front of a vehicle rolling by on the street. I only hope I can offend the morons that much who actually voted to return Roy Moore to office after he had been removed the first time. This argument comes up over and over again, and it truly is tiresome, but some people just don't get it. It isn't about your faith, it isn't about whether or not you are a Christian, it isn't about whether or not you agree with same sex marriage. It's about the constitution stupid.
Roy Moore lost his license a long time ago. If he and the Alabama Supreme Court can't come up with a valid legal argument based on the US Constitution, it's simply time to accept that separation of Church and State and the integrity of the US Constitution is more important than Roy Moore's fear of the apocalypse.
Today's newspaper reports that Roy Moore, (previously) Alabama's "Ten Commandments" Supreme Court Chief justice is following in my footsteps declaring his approbation for and the virtues of the United States Constitution. His biggest concern is his perception that the states should have more authority than now afforded by the federal government. He is the Republican […]