MURDER !!! It isn't even conceivable that a rational human being could watch the video of when Loehmann murdered Tamir Rice and come to any other conclusion than he acted recklessly and in a criminally negligent manner with wanton disregard for human life.
There is something deeply wrong in Cleveland, and this country, when henchmen have a license to kill innocent people with absolutely no legitimate scrutiny what-so-ever. This is an extremely serious threat to constitutional jurisprudence, to the point that failure to even send the dirtbag cops to trial can legitimately seen as an act of domestic terrorism. This brazen breach of justice has been repeated too often and is a threat to the survival of this country.
It may be time, and necessary, for the federal government to begin implementing marshal law and a total take over of municipalities, like Cleveland and their police departments, that are incapable of functioning as part of the United States system of constitutional justice.
Don't think it's that serious? It will be in just a few short years if the cop unions are not broken and put out of business. They are now functioning as illegal, seditious caliphates, and are destroying civil order.
Enough is enough, Obama, do your job.
©2015 -Jim Casey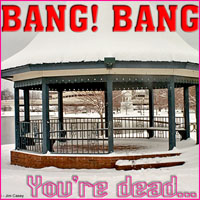 Cleveland police officer Timothy Loehmann is no better than any other dirtbag who kills as part of his gang indoctrination. For the wanton murder of innocent 12 year old Tamir Rice – that's what the death penalty is for.