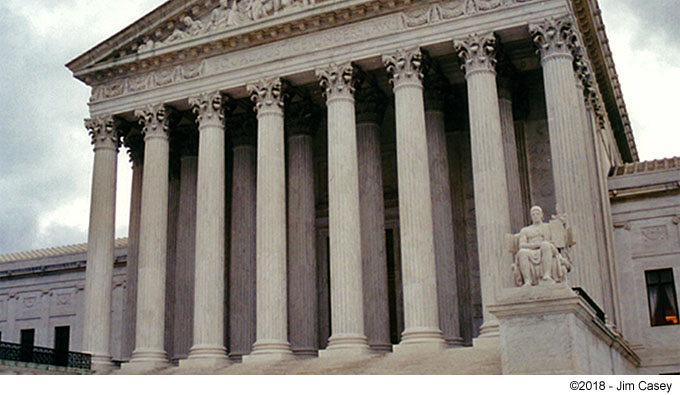 MY STATEMENT ON RUTH BADER GINSBURG
Wretched Little Woman – Looking at Ruth Bader Ginsburg in the recent past is definitely reminiscent of looking at the Wicked Witch from the Wizard of Oz. Interestingly enough, she might actually be the Wicked Witch of the West, WWW, as a outside end-cap for an era also punctuated by the World Wide Web. That would also suggest her reflection to be that of Nancy Pillowsee. That's pretty accurate.
Ruth Bader Ginsburg lies in state at Capitol Statuary Hall
The truth is, I really shouldn't admit it, but I miss the Wretched Little Woman – just not on the Supreme Court. Credit where credit is due, however, RBG certainly did move some legislation forward that was appropriate and needed. Those cases dealing with the handicapped and basic equality were mostly good things.
Unfortunately, she became an icon for the extremist feminist movement and although she championed women's rights, the fact is that the ultra-extremism has more often than not resulted in broken families and single parent mom's that actually leaves many women much worse off for their grandiose aspirations and their wayward children wanting for mentors after age 30.
The white-elephant truth is, ultra-feminism is one the most influential driving factors that leaves our country divided and in disarray today. There were those of us who predicted these results more than forty years ago and of course we have turned out to be correct. And, my eternal disclaimer. I always believe women should be paid equally and fairly when doing a job.
It's also interesting to note. In the end, Ms. Bader could have looked into her crystal ball and foreseen a future where she would likely not be able to continue on the Supreme Court. In fact, she reached 80 years old while Barack Obama was still President. If she had stepped down then, Obama could have picked an appointee to satisfy the liberals. Who really wants to be at work when they are 80? Instead of seeing the likelihood that she wouldn't be able to continue past two more likely Republican terms – pushing her near 90 – she made the short-sighted and selfish decision to remain on the court.
For all the incantations of equality, men and women are simply not the same and Ms. B typified the more instinctively emotional judgement of a woman whose body is hardwired for making babies and whose brain is hardwired for taking care of their immediate needs. There's nothing wrong with that, it's the way it should be. But the truth is women don't always make the best managers and long term decision makers.
As of now, Donald Trump is the elected President and it is his job to appoint a replacement for B. It is good, right and appropriate that he do so before the election. The democrats have threatened to "pack" the court if Joe Biden wins. I doubt he can win. But, it's one thing to work within the existing system to achieve the political will of the people who have elected you. It's another altogether to set out to restructure the system because you don't like the fact someone else had a right to make the decisions.
I would not consider restructuring the Supreme Court to be valid. And based on the ease at which it might be done, if any changes are to be made it should be to require a two thirds majority vote to do so. Either way, the socialist democrats are engaged in warfare that is dangerous and contraindicated. Fortunately, and this is not an endorsement, President Trump is likely to be reelected.
So long B. Rest in Peace.
©2020 -Jim Casey