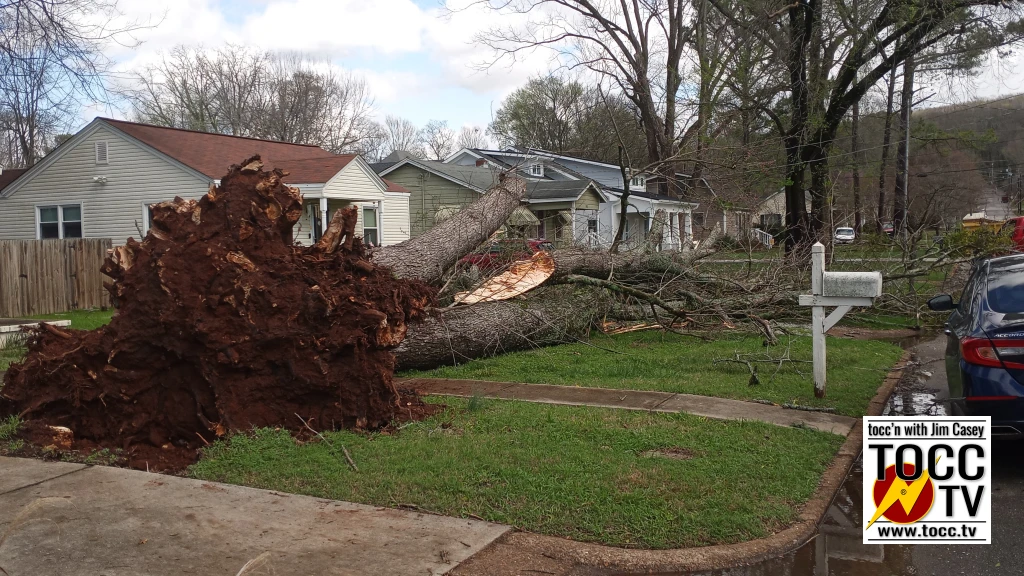 Tornado like winds blew through Huntsville today as a strong line of thunderstorms moved past around noon. Winds could be heard howling as the front line poured heavy rains onto already soaked ground. Strong winds continued to blow even as skies cleared behind the clouds. Winds are still gusty right this minute.
This big ol' tree was blowed over in the Five points district on Beirn Ave. Fortunately, the tree fell across the yards, not the houses or nearby vehicles, apparently causing no injuries or major damage. Except, the next mailbox up the street was demolished as limbs tore the box off leaving it lying on the ground amidst other debris. A few years ago, a similarly sized tree fell over in the same neighborhood totally destroying a home and maybe caused injuries.
Debris and scattered limbs could be seen around East Huntsville as reports of downed limbs and trees came in mostly from North Huntsville along with traffick light power outages leaving some traffick signals totally without any lights from any direction. Reports also indicated power outages along Governor's Drive. A tornado warning was eventually given for north east Madison county but it is unknown at this moment whether it touched down or not.
©2023 – Jim Casey