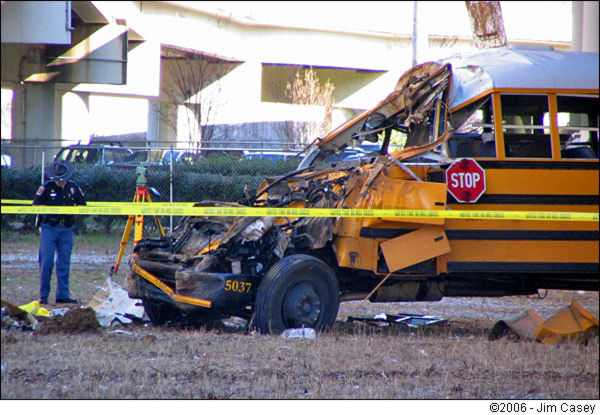 Tragedy struck yesterday in Huntsville, Alabama, as a Huntsville City Schools bus carrying 44 high school students to a vocational technical school for morning classes careened off the elevated Interstate on-ramp, apparently after having been cut-off by another vehicle. Two young ladies were killed at the scene, subsequently, a third died later in the afternoon, and a fourth has passed today. Although many more students were injured seriously, about half were actually able to walk away, or shortly after being treated for minor injuries.
Recently my website focus hasn't included covering local events, and I had actually intended to take the Thanksgiving week off from my column. However, this accident happened quite close to home as I live in the area. In fact, if the accident had happened another five hundred yards down the highway, the bus might have landed in my garage.
The NTSB is on the scene and is conducting an investigation along with local law enforcement. The tragedy has ignited the debate over the lack of seat belts in school busses nationwide. Interestingly, an NTSB spokesman pointed out that school busses are inherently safe vehicles and that out of more than 44,000 vehicle deaths on the highways of America last year, fewer than ten fatalities occurred to school bus passengers. Some even argue that having safety belts on schools busses is actually more dangerous than not.
Of course, one fatality is too many, and it is hoped that the investigation might result in even fewer such tragedies.
I offer my condolence to the families and friends of those who were injured or lost their life.
The four young ladies who have died as a result of what ultimately was an act of domestic terrorism are: Christine Collier, Nichole Ford, Tanisha Hill, and Krystal McCrary.