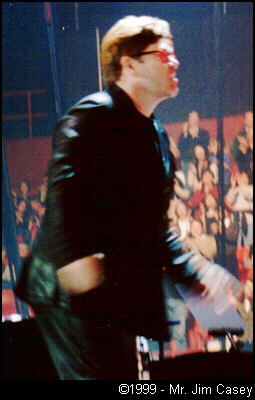 Elton John – "Razor Face"

With pop superstar Elton John appearing in Huntsville this week I decided to dig out another photo from the morgue.
Back in 1999 a confluence of events came together such that I was inclined to take a sight seeing tour
by Amtrak up the east coast, across the Midwest, through Dallas and on to Oklahoma City. It was
of a pilgrimage of sorts for a myriad of reasons.
A few months earlier I had purchased a new 35mm SLR for use on my website. During the summer of 1999, the astronauts that
landed on the moon, including Buzz Aldrin, and others, although sans Neil Armstrong, were appearing at the Space & Rocket Center.
I decided to make a bold move and called the press office at the USSRC. I explained who I was, about my website, and asked if
I could get in on a press pass to take photos. I was frankly a bit surprised when I heard the answer – yes! (More on this story another time.)

Not long after that I saw the opportunity for my sight seeing tour-de-force when I learned Elton John would be
performing at the Myriad in Oklahoma City. At that time, the nation was still a bit taken aback by the OKC bombing perpetrated by Timmy
McVeigh, and I was interested in seeing the site, where a memorial was still under construction. Being emboldened by my success at the USSRC,
I decided to get in touch with the concert promoter and request a photographer's pass for the concert. Again, giving them the straight scoop
on my site and what I was up to – I was happily surprised to again receive a positive reply.

I had never photographed an indoor concert before, so when I arrived I went through the protocol explained to me. I would be allowed in the
front stage area for the first two numbers – no flash – and no more shots after that, time to exit. After the end of the second song I
went over to the side, just to stop a minute and look at the scene without worrying with the camera. That's when Elton unexpectedly walked to the front of the stage and hollered his remarks – noted below. I was surprised. I had seen him in concert before, and nothing like this had ever happened. There I stood, with my camera practically disarmed loafing in my hands as I watched speechless. Then it hit me like a ton of bricks, no one gets a shot like this, and in bad lighting and barely enough time to check focus or shutter speed or depth of field – brought the camera to bear and fired off one last shot quickly enough to capture the photo below. It may not the best photo of Elton John you've ever seen… but then again, maybe it is!

Incidentally, I had also bought a ticket to see the entire show. It's hard to say whether it was the best seat ever. But it damn sure couldn't be beat. I guess the gods had shown favor because of my snapshot aspirations, and another surprise was that the ticket turned out to be on the front row and immediately in front of the piano. The next best seat I ever had when seeing Elton John in concert, probably really was the best, again because of the timing, and a few years earlier when I spent a fabulous evening on the crest of the hill, dead center, at the Lakewood Amphitheater in Atlanta. I met up with a great group of friends on the most perfect fall day one September with absolutely perfect weather and stars
shining in the sky. It was one of those, come to think of it, both of these two concerts were "had to be there" experiences.
---
October 30, 1999
This photo of Elton John, taken at the
Myriad in Oklahoma City on October 30, 1999, shows the star in unusual form.
Elton's temper tantrums are legendary amoung insiders, but it rarely ever shows in public.
In this instance, the crowd rapturous with applause, he approached the front of the stage
– without microphone – and bellowed out: "Here I am, come and get me you Son of a BITCH!"
The incantation clearly was not intended for the adulating audience, and could only be
heard by those immediately in front of the stage – if they were paying attention. I supposed
the outburst to be directed at "the ghost" of the Oklahoma City bombing, although, Timmy
McVeigh had not yet met with his final destiny.


_____________________
©1999, 2012 – Jim Casey
www.tocc.tv Red HOT Uploads