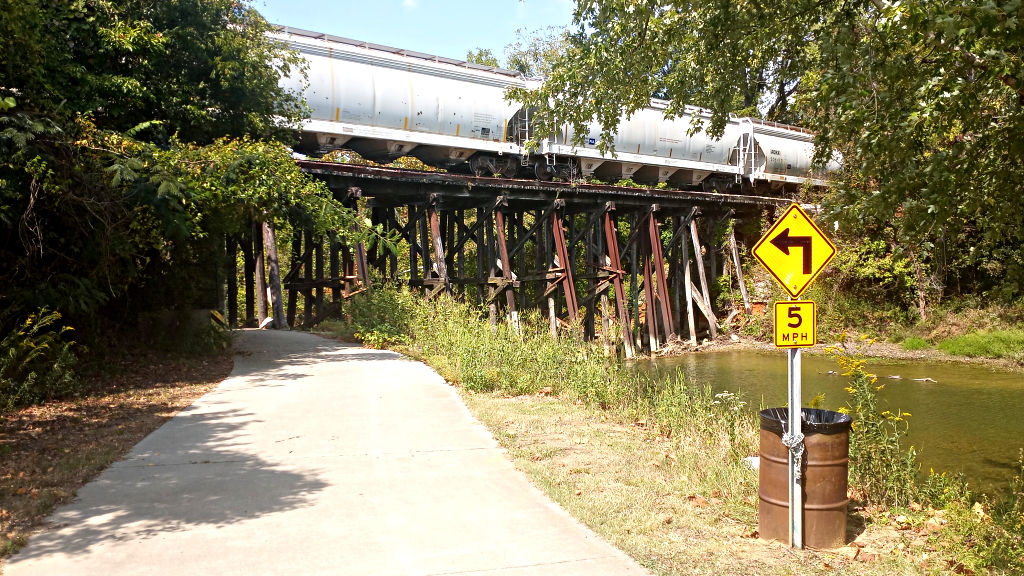 Today I decided to bicycle down to Ditto Landing. It's about a 15 mile trip each way for me so at 30 miles total, on mostly flat terrain, it's a good bike hike and workout.
Ditto Landing is on the Tennessee River located on the south end of Huntsville and includes boat docks, ramps, marina and a Greenway along the river. For some reason the photo I took of the river itself turned out blurry so I'm not putting it here this time. I even thought about doing a live on Twitch for the trip but I'm just not set up yet with the right equipment for that.
About half the trip is on city streets mostly in residential areas and about half is along Aldridge Creek Greenway in south Huntsville. The pic I decided to display here is on the south end of the Aldridge Creek Greenway almost at Ditto Landing and it's got a story to go with it too.
I published almost exactly the same area like nearly 20 years ago during one of the great floods we've had. Back then, the photo showed a vehicle washed into the Creek and a lot higher water level. Today's pic shows reinforcing work on the railroad trestle and unfortunately it's not quite as aesthetic as was before. But a good shot nonetheless and a chance for reminiscing.
As I publish the photo I also note that my posts are a bit less frequent than in the past. There are a number of reasons for that. First, I'm getting pushback from the dark forces of evil, probably motivated by religious cults and mainstream media that for their own agendas would rather not have an independent voice in local media. It's an imposition of both censorship and monopoly.
Another reason is two fold bacause other activities are occupying my interest at this time. One being a number of considerations in regards to my upcoming retirement plans, and the other being my continued exploration of social media and how various platforms best fit my goals and ambitions for Internet publishing.
All these things may have caused some confusion about the future of tocc.tv. For one thing when I say I'm retiring, it's from the daily hustle to earn income. Admittedly I don't make much money from internet anything and so that's not what I mean by retiring.
Just the opposite is actually true because I will have more time and resources to spend on internet journalism in coming months although it will likely include more social media than in the past. The bottom line is that I'm in a bit of an awkward transition and although publishing may be a bit less frequent for awhile I'm actually looking at various ways to rev it up in coming months.
So, hang in here with me and check out some of the social media I'me doing. And note also that I've recently met the requirements for live on TikToc and Rumble and I'm considering which is best for what. Be sure to to follow those too!
©2023 – Jim Casey