Huntsville Police Vehicle At Immigration Ralley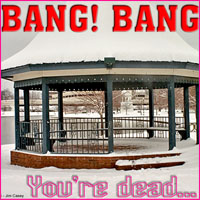 Cleveland police officer Timothy Loehmann is no better than any other dirtbag who kills as part of his gang indoctrination. For the wanton murder of innocent 12 year old Tamir Rice – that's what the death penalty is for.
Not unlike smart-ass Harris County Texas Sheriff Ron Hickman who convicted the suspect before he was even apprehended ( see the article below "Darren Goforth dTIRRd By Miles & Miles & Miles | Pigs Don't Learn" ), Sheriff Hanlin has already got it all figured out. Within two days of what was indeed a horrific massacre in Umpqua Oregon, without being able to talk to Chris Harper Mercer – because he is dead – while his family, all the students, and all he community is still in shock – this smart ass sheriff KNOWS everything there is to know, has convicted Harper of mental illness, and declared him to be "unrecognizable."
The problem that intelligent and well-informed people face in Alabama, is that there are still plenty of rural places tucked away up in the holler where Johnny still hasn't traveled farther from home than he has to go to fetch a bucket of water from the well. Even though this observation is quite literally true, it is just as unfortunate that it is also metaphorically true, and so extends to what otherwise appears to be "normal" people living in places like Huntsville. The fact is, the South ain't gonna "rise again" in the sense that seems to motivate the cretins – that South simply don't exist, that South was an entirely different animal whose politics and plantations are extinct.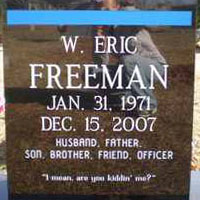 Regardless of his beginning, it turns out that William Eric Freeman wasn't much of a hero either. Because, while My Encounter With Danny Golden revealed he was poorly trained and incompetent, Eric Freeman was not only that, but he was also corrupt. My first encounter with Eric Freeman was not until 2001 and under circumstances that I am discussing only briefly because there are still outstanding legal issues, and injuries which trump any statute of limitation.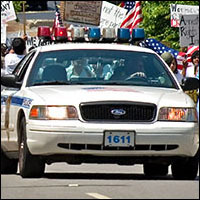 I believe in the American dream, not the American delusion. If you were to examine the war crimes of Bashar al-Assad, who is little more than the mayor of a large American city, could you really tell the difference, conceptually, between his tactics and the ones outlined in the New York Times story? I certainly can't. We are not yet in an all out war in this country, but if law enforcement is allowed to disregard constitutional values because they say they have cornered some bad guys, where will they stop if they hold an extremist sectarian view like Kim Davis and the TEA Party zealots? When do their tactics become enforcement of their agenda instead of legitimate law?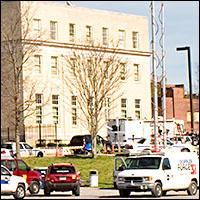 In Eric Parker's trial, one or more moron's refused to convict what was obvious at face value. Eric Parker used excessive and unnecessary force leaving the Indian Grandpa partially paralyzed. It is impossible to understand how a rational person could not find him guilty. Unfortunately, there are idiots who believe that their personal agenda is more important than legitimate due process.

In the months since Ferguson, we have seen countless police shoot and kill unarmed (black) men, and virtually the entire country has stated that the consistent excessive use of force is not ok. And yet, the response from law enforcement has been the same old excuses. Oh sure, under enormous public pressure, they did some restructuring in Ferguson. But everywhere else from New York, to Cleveland, and even Huntsville, the law enforcement response has been totally wrong, and totally lacking in contrition.