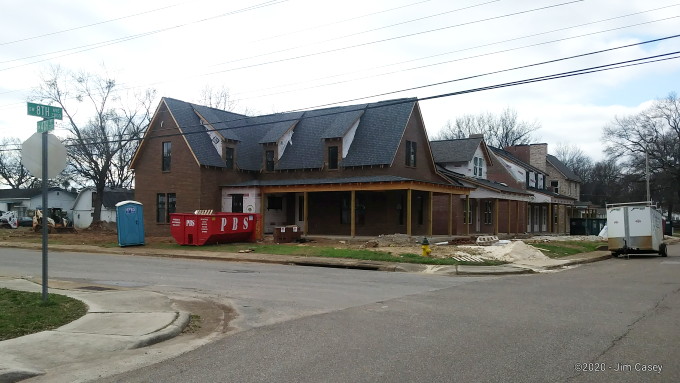 West Huntsville was tapped by city leaders some time ago for redevopment around the Lowe Mill area, near and around the Lowe Mill Flying Monkey Arts & Entertainment Center, which is the old Lowe Mill. This has mostly been since the eradication of the Downtown Rescue Mission, once located just around the bend on 9th Avenue, that was relocated some years ago.
Even still, my observations are that more homes have been renovated or rebuilt in the East Huntsville area around Five Points in the last ten years or so. Looking at the fencing and guard shacks that are clearly intended to keep people out of the Flying Monkey Arts center in West Huntsville, it's been little wonder to me that this area of West Huntsville has continued to languish for a lack of sincere invitation.
Perhaps no more. I've been keeping an eye on the construction in the photo above for several months, located at the corner of 8th Avenue and 4th Street, which now appears to be nearing completion. Brick homes are atypical in this area and this new row of four brick homes appears to be larger and well appointed compared to the surrounding neigborhood. While it appears to me that these are single family dwellings, I can't say for sure at this time whether any will include multi-family occupancy. At any rate, it does appear a new day has dawned in this West Huntsville neighborhood.
©2020 – Jim Casey