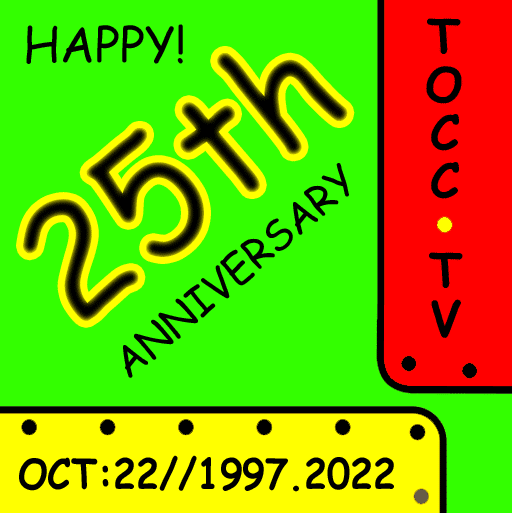 Yep. It's been 25 years since this old girl started her love affair with the Internet. And boy or boy so much has happened. She started out with just a few words scribbled on a computer screen in the public library with some rudimentarily nested html for styling. After awhile photos, snapshots no less, joined the party and next thing you know… I became a font whore.
Yep, font whore, it's my true confession. Way back then I tried to spend my time writing stories and covering events, and yes, it did end up going to video. And now, she's got live video. But before I started with the WordPress content management system, I couldn't stop playing with the damn crazy ass fonts. They're still fun and you'll notice I still got a thing going with little Miss Adobe too, but I don't customize the headline fonts so much anymore. They call it "bias." That's pretty funny coming from the fake news media.
Anyway. I have to say I didn't really foresee all the twists and turns in quite the way they came down the pike. I had hoped to be making more money at it, and I hoped I would progress more quickly than I did, or the Internet did for that matter. And frankly, I figured I might have moved on to something entirely different by now. But goddammit, in some ways me and tocc.tv have arrived. And probably none too soon.
While I never have looked at my publishing efforts as a training exercise, it has always been a continuing learning experience. After all, I had video before MSM was even on the Internet. They too had a long learning curve, and the bittersweet downfall of print media. All in all I think the transition, although not completely done, has gone fairly well. But it sho' has hurt some feelings along the way.
From a practical standpoint, I think I can see the Internet at a benchmark of fruition at this time. Probably a foolish thought, though, because there is still so much going on that could still be trans-formative in ways I can't foresee. In my world of political commentary and news coverage, the devils of media presentation have mostly been conquered. This has always been the first driving factor for publishing on the Internet, i.e., I can put forth a presentation on the net, that potentially can reach millions – and look just at good as the New York Times or USA Today. Holy shit and nobody is even blinking.
Still, that's only been half the motivation because the whole point at having at least an almost level field with MSM is to then put real information in front of people in a way that removes the bias and advantages that fake MSM always had with print. In the early days of tocc.tv, I actually considered xeroxing a few copies to sell on the downtown square. More than a few copies and the costs would be insurmountable. It still might be a good promotional idea but me and tocc.tv have got no chance of competing with MSM in print.
The trans-formative caveat could turn out to be a renaissance of print media as all the big outlets continue putting up their Internet paywalls. The shake down and re-balancing will continue as more and more media outlets require a subscription. I read a report recently that said people are only willing to buy so many subscriptions on the Internet, and that includes everything not just media outlets. Maybe when nothing is left for free on the net, getting a single copy of the Sunday paper à la carte at the corner drug store will be like a crossing paths with a well liked old friend – and no subscription.
So anyway, I said the arrival of me and tocc.tv at this point in time might be none too soon. The true underlying motivation always was to be able to present news and commentary without the bias of big MSM. Now things are changing in ways I hadn't even considered back in the beginning. The U.S. may very well be on the brink of civil war and the world on the cusp of nuclear holocaust. All the while, the self-censorship of MSM doesn't appear to appease them now that their control of spin is threatened by folks like me. It's not just about the economics, they intend to mold public perception.
The first amendment is under attack like it's never been before. Alex Jones is censored for exercising first amendment rights and MSM doesn't go to bat, if not for Alex Jones, for the first amendment. A judiciary so corrupt as to be damn near seditious is now helping MSM control public perception – even though it's patently false. Parkland, Sandy Hook, 911… there is no conspiracy theory – it's conspiracy, and the first amendment recognizes my right to say so.
So, after 25 years there's good news. I will soon be able to retire outright from earning income in the brick and mortar forest. After which I will have more time and resources available to me to better optimize my publishing efforts. The caveat is I'm not getting any younger and it's possible other interests my capture my attention. I will say this. I can see the potential for a very interesting if perilous time ahead for the United States. The worse it gets, the harder it will be to move in some other direction.
So dig in loyal tocc.tv watcher, and as the saying goes – if the creeks don't rise and the roads don't get dusty – me and tocc.tv will be looking forward to the 50th Anniversary!
©2022 – Jim Casey