This TOCC.tv file photo from 2006 shows the graffiti in the Skate Park which is an ongoing problem.
Shots rang out at Huntsville's Skateboard park located on Cleveland Avenue on Sunday evening. One man is injured and in the hospital, apparently charged with nothing more than "menacing." The other has been allowed to go free, so far, claiming self-defense.
It's seems a little odd to me that police haven't yet determined to act more swiftly in this case to make more serious charges. Or to arrest both involved for that matter. This is a skateboard park with little kids, sometimes no bigger than the skateboard they are attempting to ride. Much of the crowd is often only about ten years old, and depending on the time of day, sometimes mostly teenage boys. Shades of Sandy Hook, but absolutely no public outcry what-so-ever.
The first trouble maker ended up taking a bullet, and no doubt was rude and inconsiderate. But you have to figure he wasn't really doing anything illegal to begin with. Then, he lost his temper.
But, it seems to me that the guy claiming self-defense wasn't exactly thinking about the best interest of the kids to begin with. If a hot head wants to escalate an argument, and you've got a ten year old in tow, isn't it time to simply leave and call the police if need be? The point is, arguments don't usually escalate unless someone keeps adding fuel to the fire.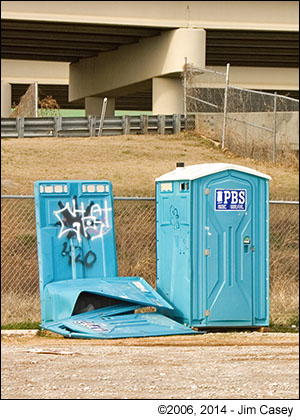 Vandalism at the Skate Park isn't limited to the graffiti as evidenced in this TOCC.tv file photo from 2006. The King Johnnies have long since been removed.
Aside from all that, despite the fact there are often hoards of young kids there, the skate park is a magnet for hoodlums and trouble makers. The pictures on this page were taken back in 2006. To solve the problem with vandalism of the Johnny Kings, the city simply removed them. The graffiti is a continuing problem, as evidenced in the photo, and on the TV news reports that showed the scrawling in the "bowl." City employees, with time to clean, can be seen pressure washing and sand blasting the open surfaces about every six months.
But, that's not all. The unfortunate fact is that where there is spray paint, there are usually paint huffers. Where there are paint huffers, there are probably other drugs, and probably not limited to the Mary Jane that Lydia Gold is obviously named for. And, seen by the early light of morning, there are always numerous beer cans in the parking lot.
I guess if you escort your kid to the park, if you can avoid an argument with gunfire, you can keep an eye the kid. But, if you want to introduce you kid to the seedy underside of low level gang activity, or maybe worse, just turn 'em loose to hang out there.
But, those aren't the only dangers involved in going to the Skate Park on Cleveland Avenue. Mainline railroad tracks run parallel to Cleveland, with a small but heavily used rail yard. Many kids take the shortcut crossing the tracks behind the Depot. Add to that the extremely dangerous burned out Freight Building, an attractive nuisance, and it's a wonder some bunch of kids haven't been killed or injured already.
All in all, you have to wonder what bunch of morons working for the city, and for the state, decided to put a skate park in that location, under the bridge, to begin with. Moreover, you have to wonder why isn't hasn't already been closed down.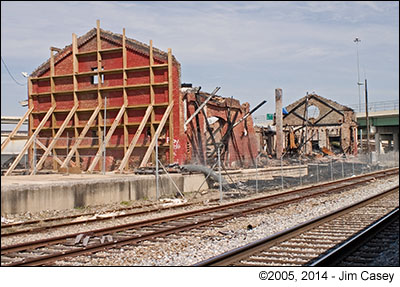 The burned out freight building has become an extremely dangerous attractive nuisance. I personally sent Mayor Tommy Battle an admonishing email in May of 2010 suggesting that the building is beyond restoration and should be torn down – immediately.
________________________
© 2014 – Jim Casey
TOCC.tv Red HOT Uploads