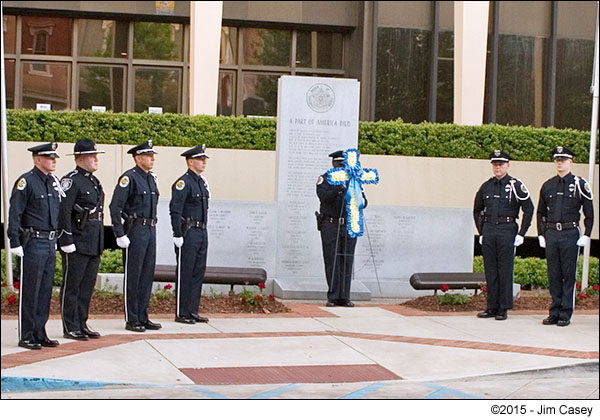 During the memorial on May 6, I couldn't help but notice that while there was another black officer to the far right and out of this picture, that one of the few black officers in the ceremony was conspicuously placed in the center holding the wreath. Whether the connotation is worthy or bad, it seems to be promoting a stereotype based on color.
The Law Enforcement Memorial Service was last week on May 6th. The annual event, sponsored by the F.O.P. is held near the granite memorial on South Side Square in downtown Huntsville. It was a typically somber event, with all 22 names engraved on the granite slab – one who died in service all the way back in 1880 – represented by family members who continue to honor their family sacrifice to this day. But, on this day, there were no outbursts of tears or groans of emotion, owing to the fact I suppose, that the most recent refreshment was the addition of a new hero nearly eight years ago.
Many county dignitaries gathered, an assistant DA, Madison County Sheriff Blake Dorning, and others, along with the City of Huntsville Police Chief Lewis Morris Jr., who was conspicuously the only representative from the City administration at the event. The original program indicated that both Tommy Battle and Rob Broussard would be keynote speakers, and neither were in attendance. I sent an email to Mayor Tommy Battle and all the City Council members requesting a comment on this faux pas, but they have chosen to be belligerent and have not replied.
Madison County Sheriff Blake Dorning
The program called for Madison County Sheriff Blake Dorning to give the opening prayer, instead, he turned out to be the keynote speaker. Before he hardly opened his mouth, I thought to myself, here we go again. Because he immediately started harping about his Granma's Bible, that was stolen out of his county patrol vehicle some years ago. He's always been real fired up about that, and I've always thought (again to myself), whoever stole that damn Bible from inside the county vehicle probably shoulda thumped ole' Blake upside the head with it a few times whilst chanting SEPARATION OF CHURCH AND STATE! Blake ambled on awhile longer reading long verses from the Old Testament book of Isaiah. He nearly 'bout gave a sermon that Jimmy Jackson would be proud to hear at an "I Love America" pseudo christian cult meeting.
Now, one could argue about exactly whether or not the public memorial, held on the public square, over public servants killed in public service, was really just for the families, thankfully because it has been awhile… and therefore, supposing there were only christians that had been killed and engraved onto the granite slab since 1880, that it doesn't make any difference about Church and State separation. Of course I disagree.
For one thing, as already intoned from my view as a Christian, those people who obsess, especially law enforcement and judicial types in the State of Alabama, over Old Testament legalism, frankly are not Christian. Religious maybe, but not Christian. I would like to say that they are simply a pseudo christian cult who are misguided and never have really understood why it is wrong to denigrate Jesus by worshiping old testament doctrine. But, it isn't that simple. The fact is, they are not just a cult, and considering the likes of Chief Justice Roy Moore among their ranks, they are an organized crime family who agree on their OT credo – which still includes slavery and racism – as a means to define their agenda – which is ultimately neither Christian or Constitutional. They are the plantation bosses.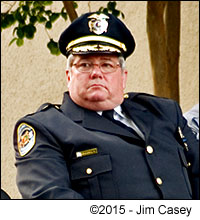 Huntsville Police Chief Lewis Morris Jr.
They are also the old South good 'ol boys who needn't wear a sheet to communicate in a clandestine manner these days. When tracing the allegiance of these fellas, the path always seems first to run to the over-sized State of Texas and the Busch family oil dynasty. And, it is a southern coalition, and Arkansas maintains her loyalty regardless of which party she attends.
In Texas, exactly like Huntsville, you cannot tell the difference between normal people and these fundamentalists cult zealots because they go about their business nowadays without wearing those gauche bedsheets over their heads. Worse of all, you can't even tell by looking at them, because they don't openly wear swastikas, which ones are bona fide neo-nazis. There is an expanding body of evidence to suggest the bona fide neo-nazis are the ones actually running the plantation.
In my last column I discussed why inadequate training and vetting are the first problems in law enforcement that have lead to the riots in Ferguson, New York, and Baltimore. Blake Dorning exemplifies the second phase of problems in municipal law enforcement all over this country. Because, not only is a new recruit poorly trained, he enters into a so-called brotherhood that is an indoctrination into a system of caste style authoritarianism.
The new cop actually believes that the plantation hierarchy is the prevailing "law of the land" when he goes out to deal with the public. It's usually the cultism where he has his affinity to begin with. Add to that the fact that police officers aren't usually the brightest intellectuals to begin with, and because of the physical nature of the job, probably learned their social and societal skills while on the high school football team building their ego in the locker room. "My pecking order is your pecking order because I'm popular, God said so, I didn't make the pros, and I have an ego problem."
It's a recipe for disaster. But, is it really necessary to take fallen police officers off their hero pedestal? Dead or alive, of course it is. I said more than ten years ago that it was a mistake to make laws that give officers impunity and to reinforce their absolute authority by making laws that automatically stiffen sentences when an officer is killed or injured. Giving law enforcement absolute authority results in absolute corruption. Do the current czars of the plantation really believe that the fleckless nature of their agenda will somehow override the axiom? Of course not. When the czars empower the henchmen, the czars are escaping their own judgment.
Unfortunately, being that they aren't so bright to start with, even the old timers haven't figured out what is wrong with their attitude or in the way they are doing law enforcement business. In Huntsville, after the situation in Ferguson flared up, law enforcement held their very own pity party at one of their community meetings. They declared, "ALL lives matter." True enough, but in context it was arrogant, insensitive, and defiant. They act like a bunch of snot nosed junior high school kids who got caught writing graffiti on the bathroom wall. They don't have contrition, and continue to argue as though their job is so tough, and they are so justified, that they haven't even done anything wrong.
I know from some of my own observations, some personal, that there are alot of cops who have done alot wrong, and it is usually completely unnecessary, inexcusable, and actually based on the offender cops ego more than anything else. Interestingly enough this concept was, unfortunately, perfectly illustrated recently when the cop in Madison "took down" a totally and completely innocent Indian man in Madison, Alabama leaving him paralyzed. You probably know the case since it has been showcased on national news.
A cops job is dangerous. True enough. But, take another looks a the facts. Since 1880, 22 law enforcement officials have been killed in Madison County. In the last ten years alone, I've counted about 15 unnecessary deaths that were the result of jailer depravity, or excessive force by cops. A that rate, the cops have killed around 200 people – almost all of which were innocent or guilty of nothing serious. A track record of 22 cops to 200 innocent citizens isn't very good. In fact, it's goddamn unacceptable.
I don't think Sheriff Blake Dorning, or Chief Lewis Morris Jr. should perpetuate the process of pseudo religious indoctrination.
________________________
© 2015 – Jim Casey
TOCC.tv Red HOT Uploads
MAY 10 – 16 IS NATIONAL POLICE OFFICERS WEEK