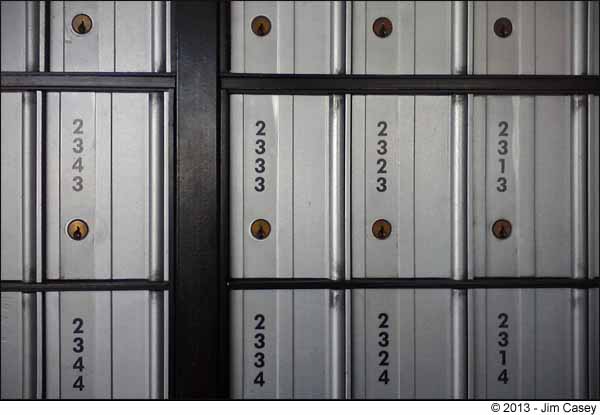 Most expensive real estate in town.

I went by the Post Office today to pay my box rent. The news today says the days of the Post Office are numbered, and that they will end Saturday delivery this summer to save money. One more casualty in the digital rampage.
It's tough to imagine a world without the post office. And yet, I never believed there would be a world without vinyl records, then I had to get used to the dwindling availability of CD's. The book stores are in danger, the library is on borrowed time, and the newspaper has already shuttered their real offices, because they don't need much space anymore to produce digital editions instead of print content.
As for me, I've got my P.O. Box. When the guy in the little jeep finally does quit coming around to put… well, I don't know what he's gonna put in your mailbox. Still, I'd rather they'd mail my drivers license, instead of going there to pick it up. Ditto voter registration, and the bank can still mail my Visa card… won't they?
Nowadays, they're moving toward smart phone "wallets." Soon, you won't even need a bank card at all. I used to feel a little sheepish because I haven't yet upgraded my phone to one that is genuinely smart. But, there have been so many articles about smart phones that are too smart for your own well being. I'm not so sure it's a good idea for someone to know where I spend my money, and where I go when I'm not spending my money. Electronic stalking is supposed to be a federal crime.
So, I've got my P.O. Box. When they finally stop delivering the mail to your street address, don't come crying to me about all the P.O. Boxes are gone. It's priceless real estate too. The prices have gone up steadily, doubling in the last ten years. I figured that if you payed the same amount per cubic foot to rent an apartment, as I pay for my P.O. Box, an average size apartment would cost about $500,000 a year.
Neither rain, nor snow, nor dark of night, but you might say the whores's bytes got 'em in the end.
________________________________
© 2013 – Jim Casey
www.tocc.tv Red HOT Uploads