That ain't a "gansta," that's Sonny J Hereford III. He's the "law and order" black man and Huntsville civil rights icon – and he MATTERS!
Passing through the hood today I happened to pass by the newly christened elementary school named for him and bearing the large screen TV sign out front flashing the image of the same Sonny Hereford. I remember when they first started putting this type sign up along the Interstate and when they said one cost about $500,000.00. This one isn't that big, and I guess the price has come down some since then. Even still, wouldn't it be great if the hood could get Casey Wardynski to put the Super Bowl on that thing so community could gather outside and watch together? I keep thinking they'll do that with the big one on the Interstate.
Sonny Hereford passed on July 7th.
________________________
© 2016 – Jim Casey
TOCC.tv Red HOT Uploads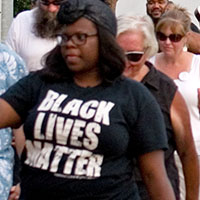 Never-the-less, it is my opinion that municipal police departments throughout this country are suffering from deeply ingrained corruption, that often is based on classicism just as much as race, as opposed to a few bad apples here or there. Therefore, I wonder if the change in plans might be just a bit more sublimation than propriety warrants. Cop lives certainly matter, but the imbalance in perception after Dallas was clearly evidenced by some who suddenly decided there is a war – where the hell have they been already?