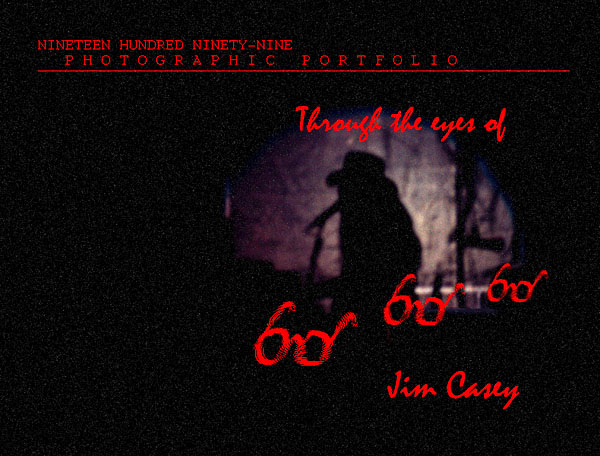 ABOUT THIS GRAPHIC:
I put this graphic together as the cover of an Internet portfolio of photographs back in 1999. So, I never have claimed to be a graphic artist, but I thought the result was pretty good considering I didn't even have a program with layers to work with. Alas, the elements are all gone, although I might redo it anyway. The portfolio then consisted of about a dozen shots that I liked and decided to share. The lack of computer software wasn't the only technical challenge back in those days. The photos in the portfolio were all taken with a standard 35mm film camera, processed at a commercial lab, and subsequently manually scanned and edited. I'm not recreating the portfolio per say, however, some of those original shots will eventually populate this section of www.tocc.tv. (In fact, the Chicago Street Musician was an original portfolio pic.)
---
About Photography
The photographic section of www.tocc.tv consists of some of the shots I have taken, or may be able to take, that I like particularly well. I'm not as technically challenged now as in the day of the portfolio discussed above. I do have Photoshop and Gimp, and I have a pretty good digital SLR too. However, I never have been able to shell out the bucks for all the right lenses and even some of my best shots end up being a little challenged for light and depth of field. But of course, some of the best photography isn't as much about technical composition as it is simply about being there. These days I'm just as likely to find a great shot using my 2mp phone camera. Flat though she be.
All that having been noted, I'm being a bit more liberal in file sizes here when I think the photo deserves less compression, as opposed to the shots you might also like seeing under the "Snapshots" heading, which are compressed for efficiency and are more relevant to what ever content that they accompany.
In other words, the Photography section is for Photography's sake.
________________________________
© 2013 – Jim Casey
www.tocc.tv Red HOT Uploads