This is an amazingly easy call considering it comes from someone who hasn't endorsed a presidential candidate in 25 years.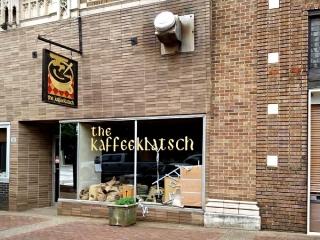 Tommy Battle's statements reek of segregation, classicism and aristocratic authoritarianism. The law enforcement statements were laced with the same old good old boy facade of shucks we did what had to be done.
That a jailer can't see someone is dying because it's too expensive to bother with, that a poorly trained police officer finds it more efficient to kill someone wielding a knife because it's "in accordance with Departmental policies," and he can get away with it, that gang violence in the jail can go totally unchecked allowing an innocent victim to be brutally murdered, that the promotion of Lewis Morris Jr. actually stands as an endorsement of child molestation and torture… are all the exemplary results of the attitude that Tommy Battle embraces.
And besides, who ever heard of sauntering into the old west saloon with a long gun in the first place? Surely you watch TV. In all the westerns I've seen, when the cowboy crashes through the swinging saloon doors with a rifle, he's either looking for the bad buy so he can shoot him, or he is the bad guy and he's gonna shoot somebody. Either way, he isn't looking for trouble, he is trouble.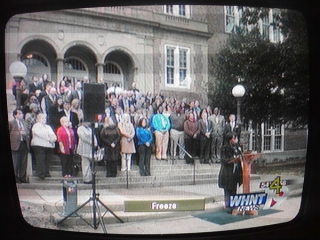 If ever a picture was worth 750,000 words, this one is surely it. Nowadays it isn't hard to get up a few Uncle Tom's to make a picture like this, a shameless and unabashed echo of George Wallace's infamous school house stand in 1963.