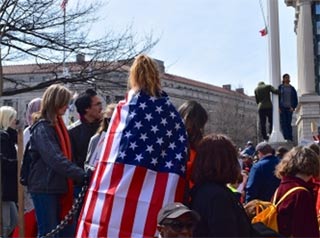 The high profile school shootings, from Columbine to Sandy Hook, to Parkland, are a deliberately orchestrated crusade.
Donald Trump has not uttered one racist word during his campaign, and yet black people are attacking rallies as though he were David Duke.
Sorry girls, sexual assault as an 'epidemic' on campus seems a little histrionic to me. Maybe girls need to act a bit more proper, and appropriate.
These three tectonic events indicate massive cultural changes that are inevitable and irreversible, and a prelude to the next five hundred years, and beyond, when human kind will be forced to grapple with even more sweeping tectonic changes that will include an acceleration of major population shifts from coastal areas. These changes will elicit critical and difficult challenges in producing and maintaining the natural resources requisite to the very survival of Man – including the fundamental basics of water and food.
The apocalypse has apparently begun in earnest, as the leader of the flat earth society, Pope Frank, recently broke earth shaking ground in an unprecedented manner recognizing the immanent nature of global warming. And, in the wake of the Charleston S.C. massacre by Dylann Hood that left nine black people dead at the Emanuel AME […]
Survivor Island is just a show, and whether or not John Rocker wins that game, Obamacare and neo-Nazism are no game. The constitution, and literally the future of this country, are being threatened by genomics gone wild. There is already no question in my mind, the cure will prove to be worse than the disease that may not even exist anyway.
It is incomprehensible to me that any medical doctor, government official, or any other individual could determine the existence of a reason so important as to justify deliberately committing such a heinous act.
I stand by my remarks because I believe so many pastors and Church's have taken "preaching to itching ears" to a new level. And frankly, the jingoism is dangerous.
Today's newspaper reports that Roy Moore, (previously) Alabama's "Ten Commandments" Supreme Court Chief justice is following in my footsteps declaring his approbation for and the virtues of the United States Constitution. His biggest concern is his perception that the states should have more authority than now afforded by the federal government. He is the Republican […]
This is a column I published about John Roberts in 2009. This man is the real deal. He's done real damage. He is dangerous. He must be impeached…that is what the Republicans should be saying…they aren't…because he is their idea to begin with. 2009.04.23 — Editorial Impeach John Roberts And The Supreme Court The Supreme […]
Response to E. Chris Newlin, executive director National Children's Advocacy Center re: Letter To The Editor; Huntsville Times, June 6, 2012 The bottom line, Mr(s). Newlin, is for whatever apparently ineffective good the NCAC accomplishes, it is already deeply involved in "politically correct" child molestation on more than one level. Apparently, you've taken your cues […]
The issue isn't weather or not any particular sex offender should be sentenced harshly. It's a question of due process and constitutional law. In essence, the Supreme dissolved the constitution and declared marshal law on a class of individuals.