REVISED – 2017.09.23
President Donald J. Trump ascended upon Huntsville this evening stumping for republican Senate hopeful Luther Strange. Strange faces Roy Moore in the Republican runoff next Tuesday.
The Strange Trump rally drew a full house at the Von Braun Civic Center with President Trump keeping the crowd enthralled for an hour and a half. While Mr. Trump's appearance was to campaign for Luther Strange, Strange spent little time at the podium while Trump dominated the evening with his own mostly standard campaign rhetoric. He did indicate his intervention in a primary was out-of-the-ordinary and that while he is endorsing Luther Strange, if Strange loses his bid for the Senate seat he now holds by appointment after it's vacation by Jeff Sessions, that he would indeed be back campaigning for Strange's opponent Roy Moore.
Protestors against Trump gathered in Big Spring Park near the gazebo as the rally commenced in the civic center arena. They enthusiastically engaged in chants and presented posters, one reading "GO HOME DOTARD". Other media outlets indicated the protests had a few rowdy moments but never became violent and apparently no arrests were made.
________________________
© 2017 – Jim Casey
TOCC.tv Red HOT Uploads
MAGAZINE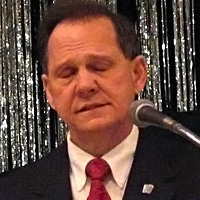 Chief Justice of the Alabama Supreme Court, Roy Moore, has again been suspended from office by the Alabama Court of the Judiciary on ethics charges over his defiance of the US Supreme Court in regard to same sex marriage in Alabama. He was previously removed from office over his refusal to remove the ten commandments […]