This post was Made In America! And, maybe most American flags are too. Last week congress passed a law requiring the Pentagon to purchase all it's US flags from US companies. Is there little doubt? One of the barristers saw this video already, and they decided to do something about it. Watch the video to see what I mean.
I usually I just repost one of the other links around the 4th of July, but this video has been reproduced from the original using less compression and presented in a larger size using the WP embedded player. The raw footage was only 320 to begin with, so it's still a little fuzzy around some of the edges. Even still it upsamples quite nicely.
________________________________
© 2013 – Jim Casey
TOCC.tv Red HOT Uploads
MAGAZINE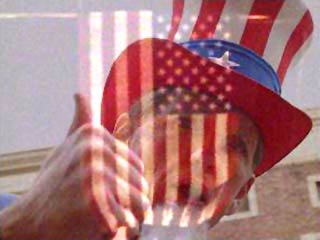 Absolute power corrupts absolute, and as I recall Ted Turner, wise man that he is, once called Christians "stupid." He eventually apologized, but for what I don't know. While Christians are foolishly attempting to take over government with religion, the potential grows for a flag burning amendment that would essentially set the stage for the dissolution of all basic constitutional rights to unravel like a braided sisal rope without a boy scout.
THEY DID NOT DIE so that you would become a virtual prisoner in your own home, the only place you can actually be without being stalked or under surveillance, assuming you use no telecommunications.
The FLAG BURNING VIDEO is back! Check out this upgraded presentation of an old favorite on TOCC.tv.